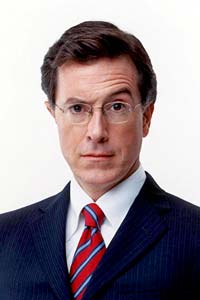 Since the Parliament of Canada now seems to be in the business of designating groups as nations, I have started a petition to bestow that status on a real nation. I am of course talking about the "
Colbert Nation
", the true fans of the greatest television journalist working today, Stephen Colbert.
Sign the petition
. We are a nation, proud and strong. Let's get the government to recognize the truthiness of our uniqueness.
Update:
Read the
Colbert Nation Covenant
. It is truly awe inspiring.
Update 2:
For those who believe such resolutions are meaningless,
read this
. The Premier of Quebec is floating the idea that he will use the "Quebecois as nation" resolution as an argument for more power for Quebec, before the courts -- and HE IS A FEDERALIST! Imagine what a separatist premier would do with it.
Recommend this Post